The pink shadow is a french transmedia fiction broadcast on www.uneombre.com. The main piece of this transmedia is a tale of the same name. The tale tell the story of a young man who has mysteriously a pink shadow instead a normal one. Trying to understand why he has a so special shadow,  this hero will discover many fantastics worlds and strange characters. But The Pink Shadow is not only a tale, it's a transmedia and there is some games, movies, art installations which expand the story :
Some texts and illustations.
A website www.unjour.uneombre.com (One Day, One Shadow) where everybody can post a picture of his own shadow.
A game art, Parallèle, is a part of this transmedia as it represents some of the fantastic worlds of the tale.
Odette Ilda et Gasparine is a animation series about three characters that the hero met during his trip.
The interactive art installation called Miroir is also a piece of this fiction as this magic miror exists in the tale.
A short stereoscopic film called Lume which explains the genese of the tale's world.
So, we could represent the structure of this fiction transmedia like this :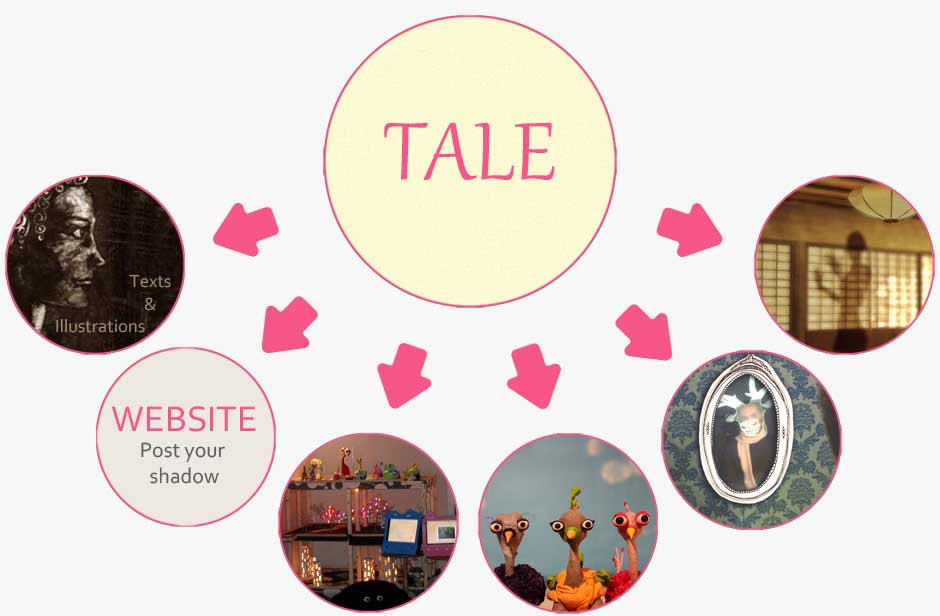 You can observe that this fiction transmedia owns a master piece : the tale "The pink shadow" which preexists and inspires the other creations of this transmedia. So this transmedia is a kind of cross-media called a "transmedia with steadfast master piece".